Properties for sale in Marbella
134 properties for sale in Marbella.
Apartment for sale with sea views in Torre Real, Marbella
For sale spacious apartment with sea views a short walk from the beach in Torre Real, Marbella. Torre Real is a gated and consolidated community near Río Real golf course that has 40,000 sqm of gardens. It is very well connected with the main road and the highway, with the center of Marbella at 5 …
LP557C
3 bedrooms
2 bathrooms
198 m² built
32 m² terrace
Penthouse with frontal sea views in Torre Real, marbella
For sale large duplex penthouse with frontal sea views in Torre Real, east of Marbella. This exclusive community located within the area of Los Monteros and Río Real, is 5 min walk from the beach and the golf course. Torre Real is a gated and consolidated development with security and surveillance ...
LP556
4 bedrooms
3 bathrooms
251 m² built
47 m² terrace
Renovated penthouse in Puerto Banus with spetacular views
Exclusive penthouse in Puerto Banús with fabulous views of the marina and La Concha. This recently renovated apartment with a modern design and wooden floors is in the best area of the port, for being a more private one, and has at its doorsteps all kind of boutiques, restaurants, as well as the …
LP551C
3 bedrooms
3 bathrooms
198 m² built
32 m² terrace
Frontline golf villa in Guadalmina - Marbella
Villa located on the first line of Guadalmina golf, a few minutes walk from the shopping center and 5 minutes drive from San Pedro de Alcantara and the beach. The house has exit on the golf course and views to the garden and golf. Puerto Banús is 10 min away by car.The villa has a great potential …
LP550
4 bedrooms
4 bathrooms
439 m² built
1.048 m² plot
Contemporary beachside villa in Los Monteros - Marbella
Contemporary villa project in Los Monteros with the best quality materials and finishings. Los Monteros is a prestigious and consolidated urbanization east of Marbella, next to the beach, where you will find mainly luxurious villas. It has 24 hour security and surveillance cameras. The well-known …
LP547
4 bedrooms
4 bathrooms
363 m² built
936 m² plot
Contemporary villa with amazing sea views in Los Monteros
Contemporary villa with spectacular views of the sea, Gibraltar and Morocco for sale in Los Altos de Los Monteros, Marbella. This is an exclusive urbanization a few minutes away from the center of Marbella town, and close to Los Monteros and Río Real Golf. There are welknown international and …
LP546C
5 bedrooms
5 bathrooms
452 m² built
1.508 m² plot
Townhouse with panoramic views to the coastline in Los Arqueros
Townhouse totally renovated and furnished with a modern style, south facing and panoramic views over the coast for sale in El Alto, Los Arqueros – Benahavis. Los Arqueros is a consolidated urbanization with 24h security located on the Ronda road that offers a golf course, tennis and paddle courts, ...
LP545
2 bedrooms
2 bathrooms
125 m² built
30 m² terrace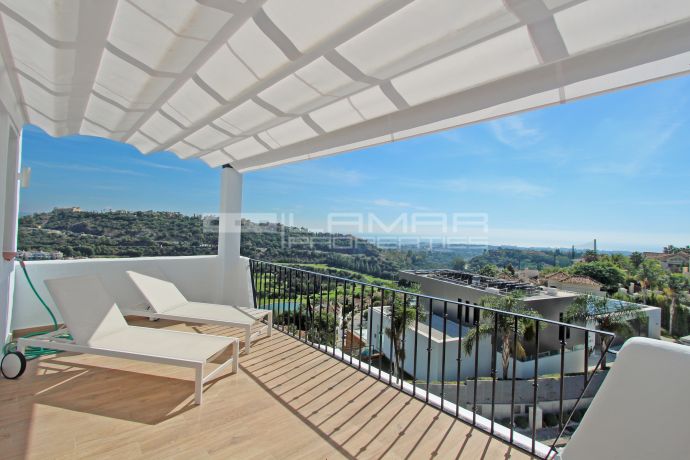 3 bedroom penthouse in Four Seasons Flamingos - Benahavis
Spacious duplex penthouse with sea views located in the exclusive development of Los Flamingos with three golf courses and 24 hour security. Four Seasons Flamingos is a gated community and has two swimming pools, one being heated. The nearest beach is 5 min by car, as well as supermarkets and …
LP544
3 bedrooms
3 bathrooms
200 m² built
100 m² terrace
2 bedroom apartment in Rio Real Golf - Marbella
Spacious 2 bedroom apartment located in the golf valley of Río Real, Los Monteros. The clubhouse as well as the beach are about 5 min walk away. Marbella center and shopping centers about 5 min drive. The community with surveillance by cameras offers manicured sub-tropical gardens and 3 swimming …
LP543
2 bedrooms
2 bathrooms
142 m² built
56 m² terrace
Storage room in Terrazas de las Lomas del Marbella Club
Two double height storage rooms are sold together, converted into an apartment with two bedrooms, two bathrooms, a toilet and a kitchen, plus a living room. Being located above ground level there are windows that allow natural light and ventilation. It comes with a garage space for a car.Very …
LP539
2 bedrooms
2 bathrooms
90 m² built
Apartment near the beach and Puerto Banus
Great apartment located in Rio Verde Playa, on Marbella's Golden Mile. Thanks to the suspension bridge that joins the two banks of the river the apartment is about 5 min. walk to Puerto Banús, shops and restaurants. The beach and the pedestrian maritime promenade that connects Marbella with Puerto ...
LP536
1 bedroom
1 bathroom
54 m² built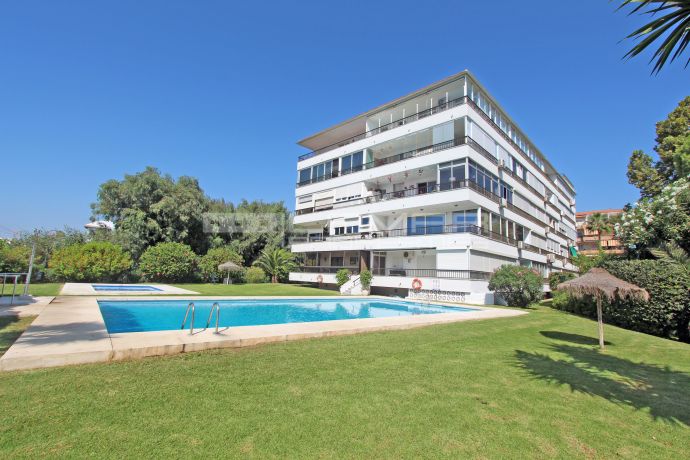 Mediterranean villa with panoramic views in El Paraiso - Estepona
Mediterranean style villa south facing with panoramic views to the coast, Gibraltar and the golf course situated in El Paraiso Alto. El Paraiso Alto is situated near the golf course with the same name and is a consolidated residential area. San Pedro and Estepona are within a 10 min drive. The …
LP533C
4 bedrooms
4 bathrooms
650 m² built
1.400 m² plot