Properties for sale in Marbella
135 properties for sale in Marbella.
2 bedroom apartment in Rio Real Golf - Marbella
Spacious 2 bedroom apartment located in the golf valley of Río Real, Los Monteros. The clubhouse as well as the beach are about 5 min walk away. Marbella center and shopping centers about 5 min drive. The community with surveillance by cameras offers manicured sub-tropical gardens and 3 swimming …
LP543
2 bedrooms
2 bathrooms
142 m² built
56 m² terrace
Storage room in Terrazas de las Lomas del Marbella Club
Two double height storage rooms are sold together, converted into an apartment with two bedrooms, two bathrooms, a toilet and a kitchen, plus a living room. Being located above ground level there are windows that allow natural light and ventilation. It comes with a garage space for a car.Very …
LP539
2 bedrooms
2 bathrooms
90 m² built
Apartment near the beach and Puerto Banus
Great apartment located in Rio Verde Playa, on Marbella's Golden Mile. Thanks to the suspension bridge that joins the two banks of the river the apartment is about 5 min. walk to Puerto Banús, shops and restaurants. The beach and the pedestrian maritime promenade that connects Marbella with Puerto ...
LP536
1 bedroom
1 bathroom
54 m² built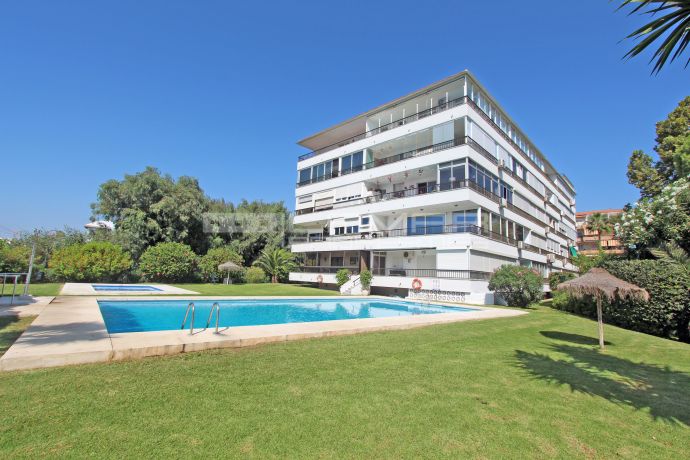 Mediterranean villa with panoramic views in El Paraiso - Estepona
Mediterranean style villa south facing with panoramic views to the coast, Gibraltar and the golf course situated in El Paraiso Alto. El Paraiso Alto is situated near the golf course with the same name and is a consolidated residential area. San Pedro and Estepona are within a 10 min drive. The …
LP533C
4 bedrooms
4 bathrooms
650 m² built
1.400 m² plot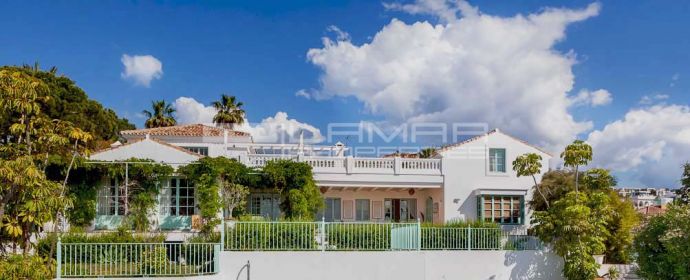 Rio Real Playa, beachfront apartment sale in Marbella
Very large beachfront apartment for sale in Rio Real Playa near the wellknown Trocadero Arena beach club. This is a community of owners consolidated next to the golf course of Rio Real, in the area of ​​Los Monteros. This spacious 5 bedroom apartment has magnificent views to the sea and the …
LP532
5 bedrooms
4 bathrooms
302 m² built
66 m² terrace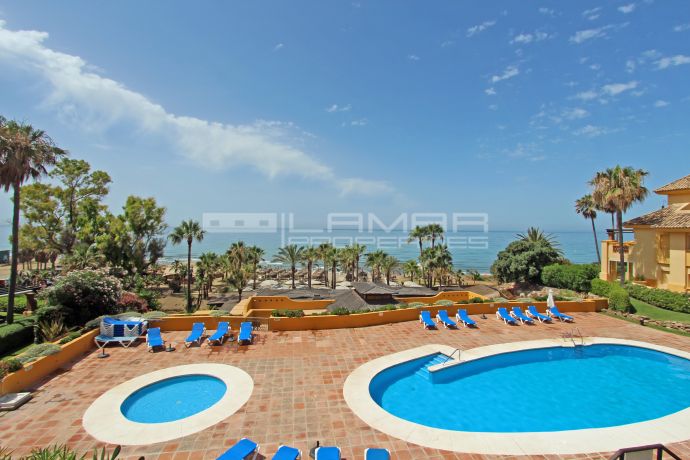 Townhouse in Coto de la Serena - New Golden Mile of Estepona
For sale townhouse with lots of charm, south facing and sea views from the second floor for sale in the urbanization Coto de la Serena, in the municipality of Estepona. Coto de la Serena is an urbanization consolidated 5 minutes by car from San Pedro de Alcantara and 10 minutes from Estepona. The …
LP531
4 bedrooms
4 bathrooms
199 m² built
53 m² terrace
Beachfront plot with project in Los Monteros - Marbella
One of the few remaining plots for sale on the beachfront in Marbella, located in Los Monteros, with a license to build a villa. The plot has 2,905m2, of which 2,021m2 are lucrative, with a building coefficient of 30%.The beach is probably the best of Marbella, and the views of the city of …
Villa in Los Flamingos Golf Resort - Benahavis
Top quality villa situated in one of the best plots of Los Flamingos Golf resort, Benahavis. The house is south oriented and has sea views. Los Flamingos holds 3 golf courses named Los Flamingos, Alferini and Tramores part of the Villa Padierna Palace hotel. The nearest beach is at a 3 min drive, ...
LP526
5 bedrooms
3 bathrooms
533 m² built
2.122 m² plot
Frontline beach in Los Granados Puerto Banus
Frontline beach apartment with private pool with sea views in Puerto Banus, in the prestigious community Los Granados. Los Granados is an exclusive and consolidated gated community with 24 hour security at a short walk of the marina of Puerto Banus where you will find all kind of shops, ...
LP525C
3 bedrooms
3 bathrooms
172 m² built
160 m² terrace
New penthouse for sale on Marbella Golden Mile
New and contemporary development completely finished on Marbella's Golden Mile. This new complex with a modern design consists of 8 luxurious apartments, spacious and with lots of light, each has its own heated and salt water pool, offering a new concept of home in Marbella. The apartments have a …
LP523
3 bedrooms
3 bathrooms
160 m² built
162 m² terrace
Estepona, Contemporary frontline beach townhouse
Contemporary off plan project situated frontline beach of Estepona Playa on the Costa del Sol. This superb residential development fully gated and with surveillance cameras has direct access to a beautiful sandy beach and is at walking distance to the port of Estepona with shops and restaurants, ...
LP520
3 bedrooms
2 bathrooms
274 m² built
104 m² terrace
Estepona - Costa del Sol, Frontline beach townhouse
Contemporary off plan development situated beachfront of Estepona Playa on the Costa del Sol. This modern residential complex fully gated and with surveillance cameras has direct access to a sandy beach and is at walking distance to the port of Estepona with shops and restaurants, and only at a 5 …
LP521
4 bedrooms
3 bathrooms
264 m² built
131 m² terrace