Villas for sale in Marbella
44 villas for sale in Marbella.
Villa in Los Flamingos Golf Resort - Benahavis
Top quality villa situated in one of the best plots of Los Flamingos Golf resort, Benahavis. The house is south oriented and has sea views. Los Flamingos holds 3 golf courses named Los Flamingos, Alferini and Tramores part of the Villa Padierna Palace hotel. The nearest beach is at a 3 min drive, ...
LP526
5 bedrooms
3 bathrooms
533 m² built
2.122 m² plot
Villa in Huerta Belón - Marbella centre
Large villa for sale in Marbella centre, in the area of Huerta Belón, just a couple minutes walk to the old town, the city centre and the beach. The villa south oriented is very well maintained and is surrounded by a wall along with cipress hedges that keep it private. There are sea views from the ...
LP494
6 bedrooms
6 bathrooms
509 m² built
500 m² plot
Brand new contemporary villa in Benahavis area
Villa with a contemporary style situated in the Benahavis area with 24h security, not far from Guadalmina and San Pedro. The villa enjoys views to the golf from the ground floor and to the sea from the upper floor. The villa has an elegant design, large windows that allow lots of light and is …
LP493
4 bedrooms
4 bathrooms
596 m² built
1.413 m² plot
Modern frontline golf villa in Los Flamingos near Marbella
Modern frontline golf villa under construction in Los Flamingos, near Marbella and the beach. Los Flamingos is an exclusive residential gated community with 24h security that holds three 18 holes golf courses and the 5* star deluxe Villa Padierna Palace Hotel. Puerto Banus is at about a 10 min …
LP492
5 bedrooms
5 bathrooms
755 m² built
1.751 m² plot
Modern villa with golf views in Las Brisas - Marbella
Newly built contemporary villa with top quality materials located in Las Brisas, the heart of Nueva Andalucia Golf Valley. The architecture is neutral with clean forms. Las Brisas is within a five min drive to commercial centres, shops, restaurants, the Aloha College and Puerto Banus. Marbella town ...
LP489
6 bedrooms
6 bathrooms
722 m² built
1.253 m² plot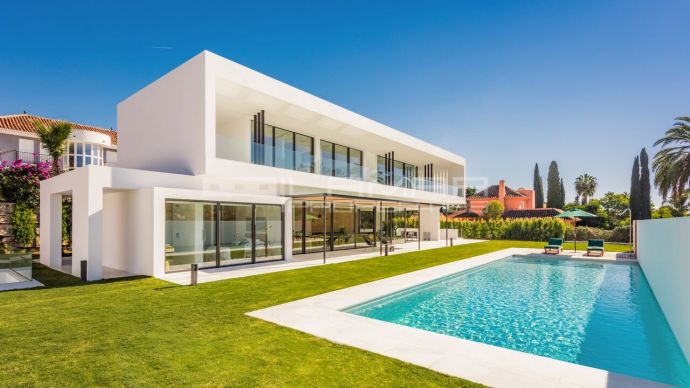 Beachside new contemporary villa near Guadalmina Baja - Marbella
Spacious brand new modern villa situated in Casasola, right next to Guadalmina Baja – Marbella, at walking distance to the beach and close to all kind of amenities. The house has been built to the highest standards and specifications. San Pedro de Alcantara is within a 5 min. drive, as well as the …
LP476
5 bedrooms
6 bathrooms
804 m² built
1.529 m² plot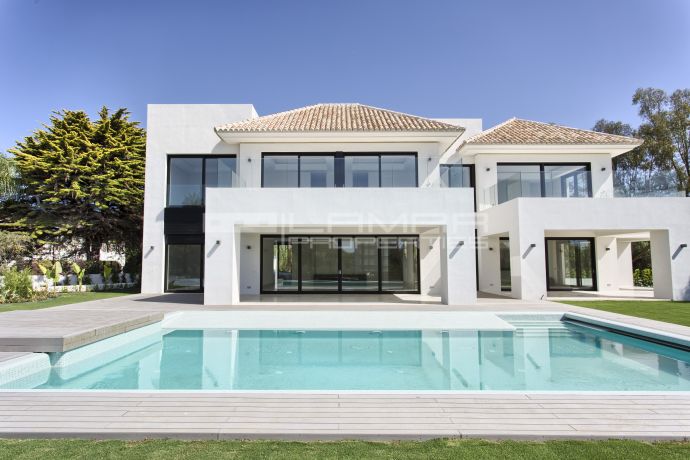 Villa in Guadalmina Alta near the commercial centre
Very well kept villa on one level for sale in the exclusive residential suburb of Guadalmina Alta, at walking distance to the commercial Centre and the Guadalmina Club House. San Pedro de Alcantara is at a 5 min drive. The house is accessed by a courtyard with a lemon tree, that leads to the …
LP475
3 bedrooms
3 bathrooms
241 m² built
652 m² plot
Spacious villa on Marbella Golden Mile
Very spacious villa for sale in a sought after location on Marbella's Golden Mile, with lots of privacy and green surrounding the house. Altos de Puente Romano is an exclusive gated community opposite the Puente Romano hotel where most properties are villas, with 24 hour security, and at a 5min …
LP474
5 bedrooms
5 bathrooms
1.012 m² built
821 m² plot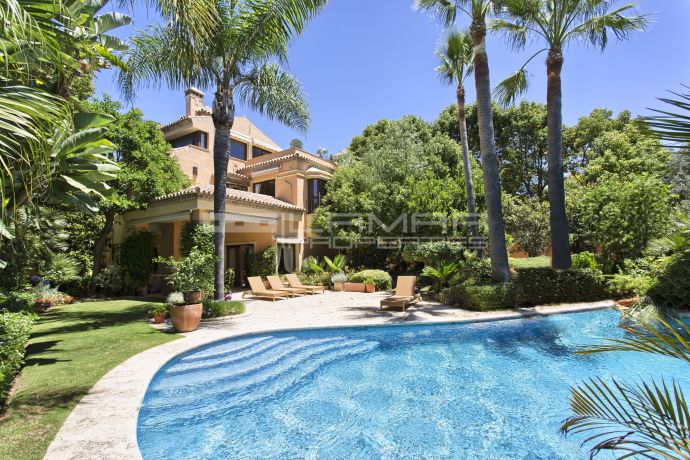 Luxurious contemporary villa in Guadalmina Baja, Marbella
For sale luxurious contemporary style villa situated close to the beach in Guadalmina Baja, Marbella, where the light, design, security and peace in contact with nature stand out. Guadalmina Baja is known for being an exclusive urbanization where the plots and villas built are of generous …
LP472
7 bedrooms
8 bathrooms
1.350 m² built
3.000 m² plot
Charming villa in Sierra Blanca with sea views
This exclusive villa situated on the upper part of Marbella's Golden Mile has a lot of charm and character and enjoys panoramic views to the sea. It stands out for its eclectic style, which fuses all the beauty of the Mediterranean, and the inside spaces extend out onto transitional patios. The …
LP469
7 bedrooms
8 bathrooms
1.101 m² built
1.992 m² plot
Rustic villa in Guadalmina Alta
This rustic villa is situated in a quiet residential area of Guadalmina Alta, second line to the golf course. The villa was built in one level and features beamed ceilings, antique doors and two fireplaces. There are three bedrooms and three bathrooms. Marble floors. BBQ area and a large garage.The ...
LP447
3 bedrooms
3 bathrooms
200 m² built
805 m² plot
Luxury villa in Marbella Sierra Blanca
Very exclusive villa in the secure and gated community of Sierra Blanca, on the upper part of Marbella's Golden Mile. This imposing villa offers magnificent panoramic sea views, a grand entrance, stunning hall, seven bedrooms, a large living area which opens onto the covered terrace, dining area …
LP432
7 bedrooms
7 bathrooms
821 m² built
2.000 m² plot