Luxury beach properties for sale Marbella, Costa del Sol
With the beautiful Mediterranean Sea stretching along the Costa del Sol and the amazing views of Gibraltar and Africa, it is no wonder that so many property buyers in Marbella and the surrounding areas look at beachfront property. That is why we have produced a special section which concentrates on some of the best Marbella front-line, beachfront and beachside properties for sale from the Golden Mile down to Estepona.
Beach front properties for sale in Marbella
27 properties for sale in Marbella.
Beachfront townhouse at Bahia de Marbella
Beachfront townhouse with four bedrooms in the exclusive residential community of Bahia de Marbella, in the area of Los Monteros. This is a gated community with 24 h security that has direct access to the beach. It is very well located: Marbella is at 5 min drive and Puerto Banus at 10 …
LP581
4 bedrooms
4 bathrooms
240 m² built
50 m² terrace
Renovated penthouse in Puerto Banus with spetacular views
Exclusive penthouse in Puerto Banús with fabulous views of the marina and La Concha. This recently renovated apartment with a modern design and wooden floors is in the best area of the port, for being a more private one, and has at its doorsteps all kind of boutiques, restaurants, as well as the …
LP551C
3 bedrooms
3 bathrooms
198 m² built
32 m² terrace
Rio Real Playa, beachfront apartment sale in Marbella
Very large beachfront apartment for sale in Rio Real Playa near the wellknown Trocadero Arena beach club. This is a community of owners consolidated next to the golf course of Rio Real, in the area of ​​Los Monteros. This spacious 5 bedroom apartment has magnificent views to the sea and the …
LP532
5 bedrooms
4 bathrooms
302 m² built
66 m² terrace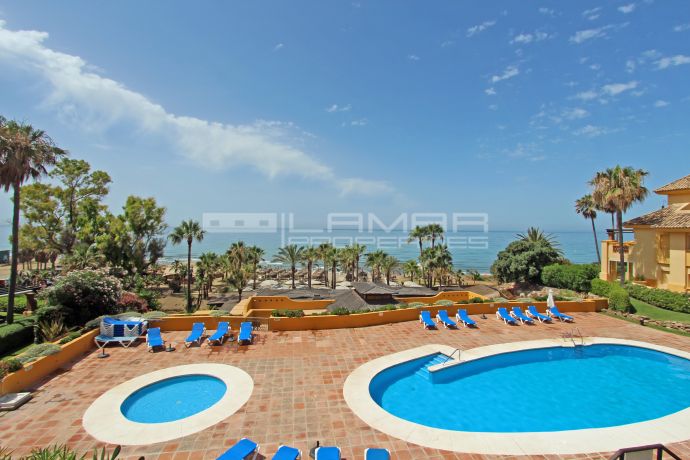 Beachfront plot with project in Los Monteros - Marbella
One of the few remaining plots for sale on the beachfront in Marbella, located in Los Monteros, with a license to build a villa. The plot has 2,905m2, of which 2,021m2 are lucrative, with a building coefficient of 30%.The beach is probably the best of Marbella, and the views of the city of …
Frontline beach in Los Granados Puerto Banus
Frontline beach apartment with private pool with sea views in Puerto Banus, in the prestigious community Los Granados. Los Granados is an exclusive and consolidated gated community with 24 hour security at a short walk of the marina of Puerto Banus where you will find all kind of shops, ...
LP525C
3 bedrooms
3 bathrooms
172 m² built
160 m² terrace
Estepona, Contemporary frontline beach townhouse
Contemporary off plan project situated frontline beach of Estepona Playa on the Costa del Sol. This superb residential development fully gated and with surveillance cameras has direct access to a beautiful sandy beach and is at walking distance to the port of Estepona with shops and restaurants, ...
LP520
3 bedrooms
2 bathrooms
274 m² built
104 m² terrace
Estepona - Costa del Sol, Frontline beach townhouse
Contemporary off plan development situated beachfront of Estepona Playa on the Costa del Sol. This modern residential complex fully gated and with surveillance cameras has direct access to a sandy beach and is at walking distance to the port of Estepona with shops and restaurants, and only at a 5 …
LP521
4 bedrooms
3 bathrooms
264 m² built
131 m² terrace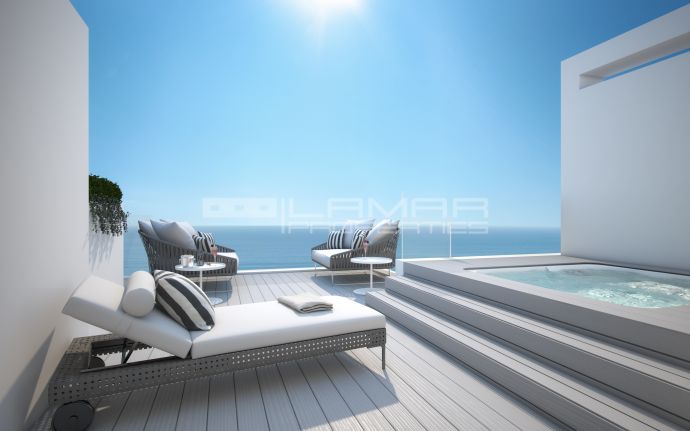 Modern frontline beach townhouse in Estepona
Modern off plan project located on the very beachfront of Estepona Playa on the Costa del Sol. This amazing development fully gated and with surveillance cameras has direct access to the beach and is at a few min walk from the port of Estepona with all kind of amenities, and only at a 5 min drive …
LP522
5 bedrooms
4 bathrooms
306 m² built
147 m² terrace
Beachfront garden apartment in Malibu - Puerto Banus
Luxurious frontline beach garden apartment with sea views and west oriented at only a few minutes walk from Puerto Banus. Malibu is one of the most exclusive gated communities with 24h security in Marbella. Top quality materials have been used for the construction of this complex, including …
LP509
2 bedrooms
2 bathrooms
159 m² built
61 m² terrace
Beachfront garden apartment in exceptional location - Estepona
This original new development situated front line beach in an exceptional location in Estepona has been designed taking care of all its details. The construction consists of 5 blocks with 70 units in total with 2, 3 and 4 bedrooms, including two villas, in a plot of almost 10,000m2. The perimeter …
LP496
3 bedrooms
2 bathrooms
125 m² built
92 m² terrace
Beachfront apartment in exceptional location - Estepona
This original new development situated front line beach in an exceptional location in Estepona has been designed taking care of all its details. The construction consists of 5 blocks with 70 units in total with 2, 3 and 4 bedrooms, including two villas, in a plot of almost 10,000m2. The perimeter …
LP497
2 bedrooms
2 bathrooms
78 m² built
27 m² terrace
Frontline beach apartment in exclusive location - Estepona
This new luxurious complex situated beachfront in an exceptional location in Estepona has been designed carefully. The development consists of 5 blocks with 70 units in total of 2, 3 and 4 bedrooms, including two villas, in a plot of almost 10,000m2. A concrete wall with an upper band of security …
LP498
3 bedrooms
2 bathrooms
114 m² built
39 m² terrace