Properties for sale in Estepona
15 properties for sale in Estepona.
Front line beach apartment in Emare - New Golden Mile
Emare is an exclusive gated community on the beachfront on the New Golden Mile, Estepona. Located on a plot of almost 20,000 m2 frontline beach between Puerto Banús and Estepona, due to the large size of its apartments it gives the impression of living in a villa. It has 24 hour security and …
LP628
3 bedrooms
3 bathrooms
300 m² built
80 m² terrace
Beachside apartment in Menara Beach - New Golden Mile
Beachside garden apartment in Menara Beach, Estepona, a prestigious beachfront community with 24 h security. Menara Beach designed by Melvin Villaroel is located on the New Golden Mile between Estepona and San Pedro de Alcantara. It has two community pools, an indoor pool, sauna and gym. The beach …
LP595
3 bedrooms
3 bathrooms
156 m² built
66 m² terrace
Beachside villa in El Paraiso - Estepona
Beachside villa located about 200 meters from the beach of good quality construction, fully fenced and south facing. El Paraiso Barronal is a consolidated urbanization where villas predominate. There are restaurants and shops within walking distance, and the golf course near. The entrance hall with ...
LP589
6 bedrooms
6 bathrooms
404 m² built
941 m² plot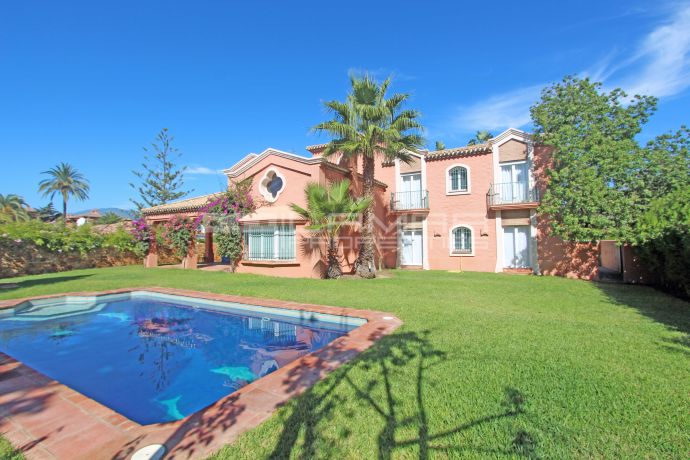 Estepona, Contemporary frontline beach townhouse
Contemporary off plan project situated frontline beach of Estepona Playa on the Costa del Sol. This superb residential development fully gated and with surveillance cameras has direct access to a beautiful sandy beach and is at walking distance to the port of Estepona with shops and restaurants, ...
LP520
3 bedrooms
2 bathrooms
274 m² built
104 m² terrace
Estepona - Costa del Sol, Frontline beach townhouse
Contemporary off plan development situated beachfront of Estepona Playa on the Costa del Sol. This modern residential complex fully gated and with surveillance cameras has direct access to a sandy beach and is at walking distance to the port of Estepona with shops and restaurants, and only at a 5 …
LP521
4 bedrooms
3 bathrooms
264 m² built
131 m² terrace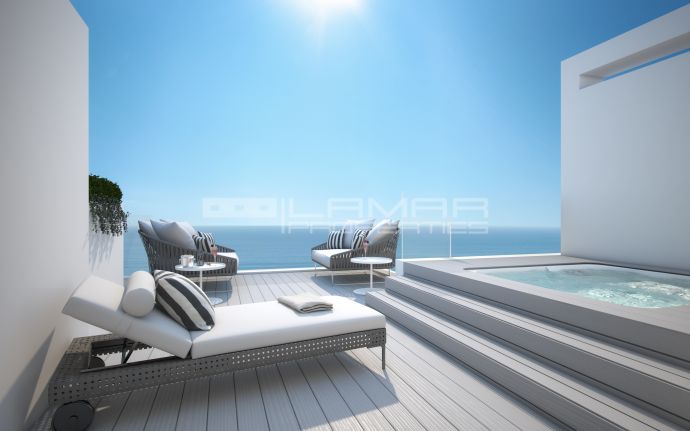 Modern frontline beach townhouse in Estepona
Modern off plan project located on the very beachfront of Estepona Playa on the Costa del Sol. This amazing development fully gated and with surveillance cameras has direct access to the beach and is at a few min walk from the port of Estepona with all kind of amenities, and only at a 5 min drive …
LP522
5 bedrooms
4 bathrooms
306 m² built
147 m² terrace
Beachfront garden apartment in exceptional location - Estepona
This original new development situated front line beach in an exceptional location in Estepona has been designed taking care of all its details. The construction consists of 5 blocks with 70 units in total with 2, 3 and 4 bedrooms, including two villas, in a plot of almost 10,000m2. The perimeter …
LP496
3 bedrooms
2 bathrooms
125 m² built
92 m² terrace
Beachfront apartment in exceptional location - Estepona
This original new development situated front line beach in an exceptional location in Estepona has been designed taking care of all its details. The construction consists of 5 blocks with 70 units in total with 2, 3 and 4 bedrooms, including two villas, in a plot of almost 10,000m2. The perimeter …
LP497
2 bedrooms
2 bathrooms
78 m² built
27 m² terrace
Frontline beach apartment in exclusive location - Estepona
This new luxurious complex situated beachfront in an exceptional location in Estepona has been designed carefully. The development consists of 5 blocks with 70 units in total of 2, 3 and 4 bedrooms, including two villas, in a plot of almost 10,000m2. A concrete wall with an upper band of security …
LP498
3 bedrooms
2 bathrooms
114 m² built
39 m² terrace
Beachfront apartment in privileged location - Estepona
This luxurious complex situated first line beach in a privileged location near Estepona has been carefully designed paying attention to details. The development consists of 5 blocks with 70 units in total of 2, 3 and 4 bedrooms, including two villas, in a plot of almost 10,000m2. A concrete wall …
LP499
4 bedrooms
3 bathrooms
144 m² built
65 m² terrace
Amazing frontline penthouse in exceptional location - Estepona
Amazing frontline beach penthouse with private pool in this exceptional and new development situated in Estepona Playa that has been carefully designed. The complex consists of 5 blocks with 70 units in total with 2, 3 and 4 bedrooms, including two villas, in a plot of almost 10,000m2. The …
LP500
3 bedrooms
2 bathrooms
128 m² built
250 m² terrace
Modern development in Estepona near El Paraiso
This new development for sale off plan situated in the New Golden Mile consist of 63 modern 2, 3 and 4 bedrooms apartments and penthouses that will be completed in 2017. This is a gated community with a large swimming pool with water chlorination system and contemporary style gardens. The beach is …
LP446
3 bedrooms
2 bathrooms
106 m² built
21 m² terrace