New villas and apartments for sale Marbella, Costa del Sol
New developments and off-plan property is very much back in demand in Marbella and the surrounding areas. In fact much of the current activity is within both Estepona and Benahavis with some fantastic luxury developments being built. Some are on the front-line of the beach on the New Golden Mile, Estepona and others are in the hills offering fantastic sea views. Below is a selection of new and off-plan properties available.
New development properties for sale in Marbella
29 properties for sale in Marbella.
New penthouse for sale on Marbella Golden Mile
New and contemporary development completely finished on Marbella's Golden Mile. This new complex with a modern design consists of 8 luxurious apartments, spacious and with lots of light, each has its own heated and salt water pool, offering a new concept of home in Marbella. The apartments have a …
LP523
3 bedrooms
3 bathrooms
160 m² built
162 m² terrace
Estepona, Contemporary frontline beach townhouse
Contemporary off plan project situated frontline beach of Estepona Playa on the Costa del Sol. This superb residential development fully gated and with surveillance cameras has direct access to a beautiful sandy beach and is at walking distance to the port of Estepona with shops and restaurants, ...
LP520
3 bedrooms
2 bathrooms
274 m² built
104 m² terrace
Estepona - Costa del Sol, Frontline beach townhouse
Contemporary off plan development situated beachfront of Estepona Playa on the Costa del Sol. This modern residential complex fully gated and with surveillance cameras has direct access to a sandy beach and is at walking distance to the port of Estepona with shops and restaurants, and only at a 5 …
LP521
4 bedrooms
3 bathrooms
264 m² built
131 m² terrace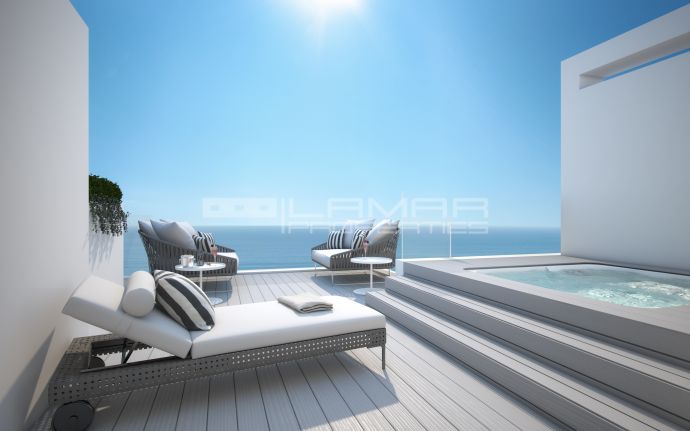 Modern frontline beach townhouse in Estepona
Modern off plan project located on the very beachfront of Estepona Playa on the Costa del Sol. This amazing development fully gated and with surveillance cameras has direct access to the beach and is at a few min walk from the port of Estepona with all kind of amenities, and only at a 5 min drive …
LP522
5 bedrooms
4 bathrooms
306 m² built
147 m² terrace
Beachfront garden apartment in exceptional location - Estepona
This original new development situated front line beach in an exceptional location in Estepona has been designed taking care of all its details. The construction consists of 5 blocks with 70 units in total with 2, 3 and 4 bedrooms, including two villas, in a plot of almost 10,000m2. The perimeter …
LP496
3 bedrooms
2 bathrooms
125 m² built
92 m² terrace
Beachfront apartment in exceptional location - Estepona
This original new development situated front line beach in an exceptional location in Estepona has been designed taking care of all its details. The construction consists of 5 blocks with 70 units in total with 2, 3 and 4 bedrooms, including two villas, in a plot of almost 10,000m2. The perimeter …
LP497
2 bedrooms
2 bathrooms
78 m² built
27 m² terrace
Frontline beach apartment in exclusive location - Estepona
This new luxurious complex situated beachfront in an exceptional location in Estepona has been designed carefully. The development consists of 5 blocks with 70 units in total of 2, 3 and 4 bedrooms, including two villas, in a plot of almost 10,000m2. A concrete wall with an upper band of security …
LP498
3 bedrooms
2 bathrooms
114 m² built
39 m² terrace
Beachfront apartment in privileged location - Estepona
This luxurious complex situated first line beach in a privileged location near Estepona has been carefully designed paying attention to details. The development consists of 5 blocks with 70 units in total of 2, 3 and 4 bedrooms, including two villas, in a plot of almost 10,000m2. A concrete wall …
LP499
4 bedrooms
3 bathrooms
144 m² built
65 m² terrace
Amazing frontline penthouse in exceptional location - Estepona
Amazing frontline beach penthouse with private pool in this exceptional and new development situated in Estepona Playa that has been carefully designed. The complex consists of 5 blocks with 70 units in total with 2, 3 and 4 bedrooms, including two villas, in a plot of almost 10,000m2. The …
LP500
3 bedrooms
2 bathrooms
128 m² built
250 m² terrace
Brand new contemporary villa in Benahavis area
Villa with a contemporary style situated in the Benahavis area with 24h security, not far from Guadalmina and San Pedro. The villa enjoys views to the golf from the ground floor and to the sea from the upper floor. The villa has an elegant design, large windows that allow lots of light and is …
LP493
4 bedrooms
4 bathrooms
596 m² built
1.413 m² plot
Modern frontline golf villa in Los Flamingos near Marbella
Modern frontline golf villa under construction in Los Flamingos, near Marbella and the beach. Los Flamingos is an exclusive residential gated community with 24h security that holds three 18 holes golf courses and the 5* star deluxe Villa Padierna Palace Hotel. Puerto Banus is at about a 10 min …
LP492
5 bedrooms
5 bathrooms
755 m² built
1.751 m² plot
Luxury apartments & penthouses on Marbella's Golden Mile
Modern and exclusive development of 34 brand new apartments and penthouses, located on Marbella's Golden Mile, not far from the Puente Romano hotel and the beach. Marbella town, Puerto Banus and international schools are within a 5 min drive. La Meridiana Suites offering 2, 3 and 4 bedrooms …
LP485
3 bedrooms
3 bathrooms
160 m² built
40 m² terrace