Apartments for long term rent in Marbella
25 apartments for long term rent in Marbella.
Unfurnished apartment por rent in Alhambra del Mar, Marbella
Beachside UNFURNISHED apartment for long term rent with private garden 200 m from the beach in Alhambra del Mar. Alhambra del Mar is a prestigious community with high demand for being located right where the Golden Mile begins, on the border of the urban area of Marbella, adjacent to the Gran …
2.650

€

Long term per month.
LP555C
3 bedrooms
3 bathrooms
170 m² built
30 m² terrace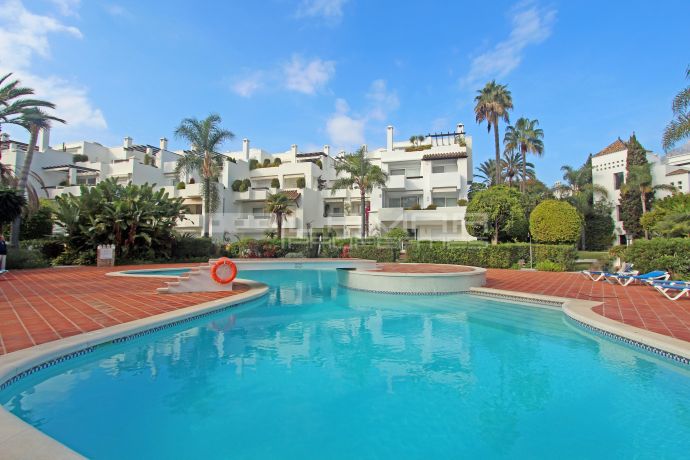 Apartment for rent in Rio Real Golf - Marbella
Apartment for long term rent in Marbella near the beach with stunning views to Rio Real golf and the sea. Monte Golf is an exclusive gated community with 24h security. The apartment has east and west orientation. Rio Real is quiet residential area with lots of trees and vegetation, conveniently …
LP554
2 bedrooms
2 bathrooms
89 m² built
43 m² terrace
Renovated apartment in Nueva Andalucía - Señorío Gonzaga
Renovated and very bright apartment with great views of La Concha in Señorío de Gonzaga, Nueva Andalucía. This gated community with communal pool is about 5 min drive from Puerto Banús and all kinds of amenities, such as supermarkets, restaurants, etc.The apartment is on a first floor without …
LP553C
2 bedrooms
2 bathrooms
70 m² built
18 m² terrace
Apartment in Mansion Club - Marbella Golden Mile
Luxury garden apartment in Mansion Club. This is an exclusive gated community on Marbella's Golden Mile with security 24h. The community offers lush subtropical gardens, with walkways, water features, two swimming pools, one indoor heated swimming pool, gymnasium, sauna and steam bath. The …
LP552C
2 bedrooms
2 bathrooms
157 m² built
35 m² terrace
First line golf garden apartment in Nueva Andalucía
Spacious duplex in an elevated position with garden and own pool with spectacular views of Los Naranjos golf course and the sea. Alcores del Golf is an exclusive gated community with security, concierge, manicured gardens and two community pools, one for children. Aloha College, the shops and …
LP548C
4 bedrooms
4 bathrooms
210 m² built
87 m² terrace
Magnificent penthouse in Rio Real Golf, Marbella
Luxurious duplex penthouse with south orientation elegantly decorated located in the urbanization Rio Real Golf, a few minutes walk from the Golf Club, as well as the beach next to Trocadero Arena. The community has manicured gardens and three swimming pools, one being heated from November to …
LP541
3 bedrooms
3 bathrooms
156 m² built
81 m² terrace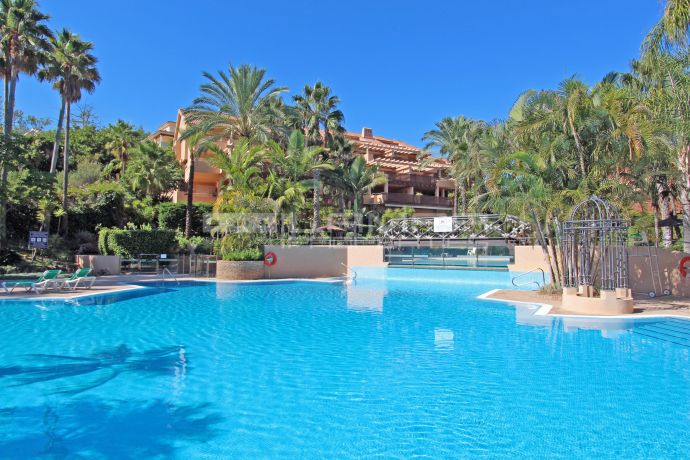 Beachside apartament in Las Mimosas de Banus
Modern apartment located in an exclusive gated complex west of Puerto Banus, where you can find Malibu, Ventura de Banús, Bahia de Banús and the Guadalpin Banús hotel. The beach is 200 m away and along the promenade you reach Puerto Banús in 5 min.Las Mimosas de Banús is the newest complex in …
2.500

€

Long term per month.
LP540C
2 bedrooms
2 bathrooms
165 m² built
14 m² terrace
Penthouse in Señorio de Marbella - Golden Mile
Great south facing duplex penthouse in one of the best blocks of the prestigious gated community of Señorio de Marbella. Situated in the middle of the Golden Mile this complex designed as an Andalusian pueblo has 24h security, extensive landscaped gardens, fountains and waterfalls. There are 4 …
LP508C
3 bedrooms
3 bathrooms
157 m² built
89 m² terrace
Beachside apartment near San Pedro
Hacienda del Sol is a large residential community on the beachside, at the back of the Marriot hotel, not far from Guadalmina and San Pedro de Alcantara. There are shops and restaurants at walking distance. The beach is at 250 metres. Puerto Banus is at a 10 min drive.This fully furnsihed apartment ...
LP507
3 bedrooms
3 bathrooms
186 m² built
Beachside penthouse near Guadalmina in Alhambra del Golf
Beautiful and comfortably furnished duplex penthouse in Alhambra del Golf, with west orientation and views to the garden and swimming pool. Alhambra del Golf is a fenced community with security cameras throughout the perimeter, situated in Casasola next to Guadalmina Baja. San Pedro Alcantara is at ...
LP501C
3 bedrooms
3 bathrooms
177 m² built
130 m² terrace
Modern beachside apartment in Los Monteros, Marbella
Spacious and modern beachside apartment south oriented with a private garden that surrounds the property in Los Monteros Park, one of Marbella East best residential communities, at only 3 min walk from the beach and the 5* hotel beach club La Cabane. The community grounds with manicured gardens and ...
3.900

€

Long term per month.
LP481
3 bedrooms
2 bathrooms
210 m² built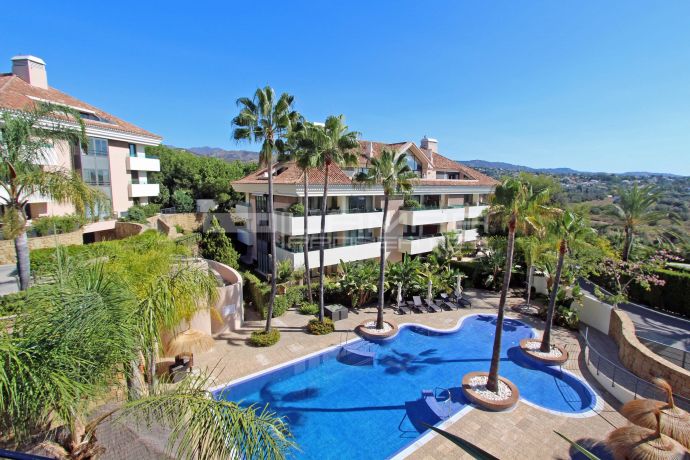 Modern unfurnished penthouse in Imara - Marbella Golden Mile
This modern duplex penthouse for rent long term unfurnished is situated in Imara, one of the most demanded residential communities on the hills of Marbella's Golden Mile, by the area of Cascada de Camojan and Sierra Blanca. The apartment is southwest oriented and enjoys panoramic views. This gated …
LP480
3 bedrooms
3 bathrooms
230 m² built
140 m² terrace